Cosmos crypto price has slowly continued its bullish trend in the past few weeks. ATOM, its crypto coin surged to a high of $14.33, the highest point since November 8. Like other most cryptocurrencies, the coin has surged by about 70% from the lowest level in December.
Ecosystem progress
ATOM price has jumped mostly because of the overall strong performance of other cryptocurrencies like Bitcoin, Alchemy Pay, and Litecoin. This recovery is because of the general view that the Federal Reserve will start pivoting because of the recent economic numbers.
Inflation has clearly started easing, which is a positive thing for the Fed. But it still remains above the bank's target of 2.0%. At the same time, the number of layoffs has jumped, with companies like PayPal, Microsoft, 3M, and Salesforce shedding thousands of jobs.
Retail sales have nosedived while house prices have continued plunging in the past few months. Historically, stocks and cryptocurrencies tend to rise in a period when the Fed is getting a bit dovish.
Cosmos crypto price has also rallied because of the ongoing activity in the ecosystem. Recently, some of the top platforms in the ecosystem have done well. For example, Band Protocol, the biggest oracle in the ecosystem has seen its total value secured (TVS) jump in tandem with the DeFi recovery.
Find out how to buy Cosmos.
Similarly, Injective Protocol, a leading DeFi infrastructure project has done well. In January, the platform unveiled a $150 million ecosystem fund. Cronos, the blockchain of the Crypto.com has seen its DeFi protocols like Tectonic, VVS Finance, and Single Finance have seen their TVLs jump by over 20% in the past 30 days. Further, UMEE, a Cosmos DeFi protocol has seen its TVL jump to over $6 million in less than a month.
Cosmos crypto price forecast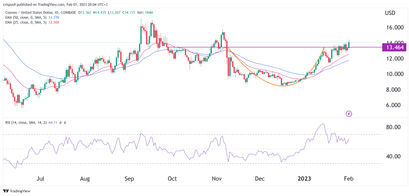 On the 1D chart, we see that the ATOM price has been in a strong bullish trend in the past few days. It managed to rise above the key resistance point at $13.46 (October 6 high). The coin's rally is being supported by the 25-day and 50-day moving averages. It has also formed what looks like a cup and handle pattern, which is usually a sign of a bullish continuation.
However, the Relative Strength Index (RSI) has formed a bearish divergence pattern. This could be a signal that the coin will likely have a pullback soon. However, based on trend-following principles, the coin will likely keep rising as long as it is above the two moving averages.