MoneyGram International, Inc. MGI recently announced the launch of a crypto-to-cash service on the Stellar network, with the support of the Stellar Development Foundation. This move from MoneyGram and Stellar Development Foundation, a non-profit organization, is expected to build a bridge between cash and cryptocurrencies and boost the utility of digital assets.
Both companies forged a partnership in October 2021, creating the latest crypto-to-cash product. Stellar is an open-source public blockchain, developed on the back of the Stellar Development Foundation. The aforementioned global service for digital wallets is available in the United States, Canada, the Philippines and Kenya. These markets witness high cross-border transactions. 
More countries will likely join the club in June 2022. The strategic action will allow digital wallet customers to easily move between fiat and cryptocurrency without depending on a bank account. The partnership will utilize Circle's USDC stablecoin for the settlement process. Currently, users of digital wallets connected to Stellar, namely Vibrant and LOBSTR can access this service. More wallets are expected to be added to the service later.
This move from MoneyGram and Stellar is expected to link people from the emerging markets to this industry. Integrating with the existing financial systems will likely bring more mainstream users to the industry. MGI has operations across the globe, which will provide huge scope to induct more users. The latest solution highlights MGI's strategy to capitalize on the crypto market. In March 2021, it was added by BinanceP2P for trading cryptocurrency in Arab countries.
Price Performance
MoneyGram's shares have declined 9.1% in the past three months compared with an 8.2% fall of the industry.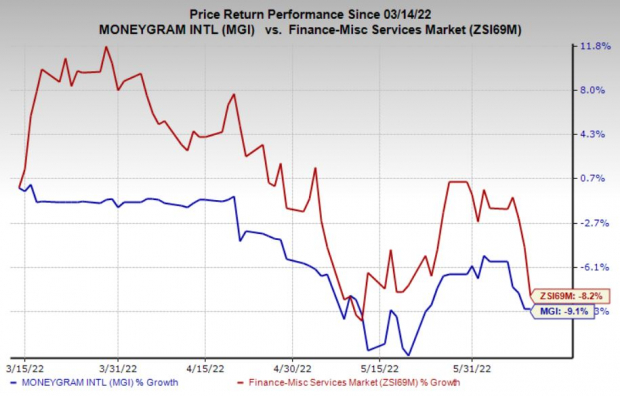 Image Source: Zacks Investment Research
Zacks Rank & Key Picks
MoneyGram currently has a Zacks Rank #4 (Sell).
Some better-ranked players in the Finance space are Ryan Specialty Group Holdings, Inc. RYAN, Alerus Financial Corporation ALRS, and AMERISAFE, Inc. AMSF, each carrying a Zacks Rank #2 (Buy) at present. You can see the complete list of today's Zacks #1 Rank (Strong Buy) stocks here.
Based in Chicago, IL, Ryan Specialty provides numerous specialty products and solutions for insurance brokers, agents and others. RYAN acts as a wholesale broker and managing underwriter to provide risk management services. The Zacks Consensus Estimate for 2022 bottom line is expected to jump 13% to $1.22 per share from the year-ago actuals.
Headquartered in Grand Forks, ND, Alerus Financial provides different types of financial services for its clients. The Zacks Consensus Estimate for ALRS' 2022 earnings per share has increased 6.9% in the past 60 days. The stock has witnessed three upward estimate revisions during this time against none in the opposite direction.
AMERISAFE, headquartered in DeRidder, LA, is a specialty provider of workers' compensation insurance, which markets and underwrites its insurance through subsidiaries. The consensus estimate for AMSF's 2022 bottom line has inched up 3.9% in the past 60 days. During this period, the stock has witnessed one upward estimate revision with no downward movement.
7 Best Stocks for the Next 30 Days
Just released: Experts distill 7 elite stocks from the current list of 220 Zacks Rank #1 Strong Buys. They deem these tickers "Most Likely for Early Price Pops."
Since 1988, the full list has beaten the market more than 2X over with an average gain of +25.4% per year. So be sure to give these hand-picked 7 your immediate attention. 
See them now >>
Click to get this free report
MoneyGram International Inc. (MGI): Free Stock Analysis Report
AMERISAFE, Inc. (AMSF): Free Stock Analysis Report
Alerus Financial (ALRS): Free Stock Analysis Report
Ryan Specialty Holdings Inc. (RYAN): Free Stock Analysis Report
To read this article on Zacks.com click here.
The views and opinions expressed herein are the views and opinions of the author and do not necessarily reflect those of Nasdaq, Inc.